Let Us Take Care of You Every Step of the Way. 
We are Corpus Christi's Premiere Custom Home Builder.
Building a home is easy with Coastal Plains Homes. If we do not have a plan that fits your needs, we will set an appointment for you to meet with our designer personally to draw up your plans, further insuring that you will get exactly the house you want.
Don't buy someone else's home. Build your perfect home with Coastal Plains Homes.
Most custom home builders want you to believe that building a new custom home that meets the customer's wants and needs at a reasonable price is impossible.
Our custom home building process takes you step by step through selecting and customizing your house plan, determining your new home's cost, financing, site selection, pre-construction meetings and every detail right up to moving into your new custom home.
When it comes to value, you won't find another builder who can offer this much for the price. We use industry leading brands, and every home is backed by a ten year insured structural warranty.
Peace of mind about the products, process and warranty are all standard features at Coastal Plains Homes.
OUR TOP 10 FREQUENTLY ASKED QUESTIONS
We Will Help You Every Step Of The Way
A. Yes, we can help you find the perfect property to build on.
A. When building, you need to keep in mind additional costs other than just the home, such as utilities; water, electric and sewer. Will you need a water well, or is city or community water available to tap into? Will you need electricity run to your property or is it available? Will you need a septic system or can the city sewer be tapped into? These costs can be added and we can take care of them for you. Other additional costs to consider will be, driveways, landscaping, and fencing.
A. Yes, we do have plans to choose from.
A. We can use your floor plan as long it meets our criteria to build from.
A. If you are financing, you will need a construction loan.
A. Depending on the size, location, and complexity of the home, the build time will vary. Most homes take between 120 to 150 days to finish once construction has begun.
A. If you would like to use a specific contractor,we will give consideration to using them in the construction of your home. We would need references and the opportunity to see any recent work they have completed.
A. There are many financing programs available. It is always best to speak directly to a Lender about your options. If you do not have a Lender, we can refer you to one of our preferred Lenders.
A. Most Lenders will require payments during the construction phase on the construction loan, based on the amount drawn on the loan each month. The Lender will let you know what their repayment schedule is
A. You will not be responsible for insuring your new home until you have closed on the refinance loan. Your Lender will let you know when they need the policy to go into effect. We will carry a Builder's Risk Insurance policy throughout the construction of your home.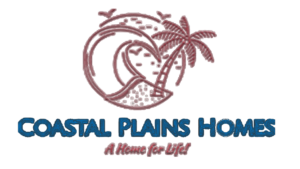 CONTACT COASTAL PLAINS HOMES
Interested in Coastal Plains Homes building a custom home for you?  Send us a message about your needs and we will contact you as soon as possible!
Address:
5350 S. Staples, Suite 323
Corpus Christi, TX 78411